Series: South Asia Video Collection
There have been several youth-led, popular uprisings in the Middle East. Corporate media, like the U.S. Government, have embraced the revolutions where they have supported U.S. capitalist interests, but have shunned the factions that threaten (what they believe to be) our natural right to rule the Middle East and control its resources. Although Libya, Egypt and Tunisia have jettisoned their Western-backed dictators, the struggle for self-determination is nothing new. In Bahrain, Syria, Yemen, Saudi Arabia, and Kashmir, people continue to protest colonial domination and the client governments that allow it. And, yet, they are conspicuously absent from the discourse. South Asia has long been one of the most brutally exploited areas on the planet. Today, as many peoples in South American and Africa continue to do, South Asians are fighting for their rights in a post-colonial world. In this light, Deep Dish TV would like to unveil a collection of our coverage of South Asia.
Aggression & Self-Determination: Massacre in East Timor (1992) (28 mins)
In 1975, Indonesia invaded East Timor, using arms supplied by the United States. Nearly one-third of the Timorese population has since died. This activist document offers eyewitness accounts and analysis of how to end the occupation.
Arundhati Roy: Two Talks on Democracy With Noam Chomsky, Alice Walker, David Barsamian, and Amy Goodman (2010) (192 mins)
In the first program, filmed in San Francisco in March 2010, Arundhati Roy discusses the largest military occupation in the world: the disputed Kashmir Valley, a formerly sovereign state currently occupied by India and Pakistan. Journalist David Barsamian interviews Roy on the massive human rights abuses committed by the world's largest "democracy."
In the second program, at MIT, Amy Goodman, Noam Chomsky and Arundhati Roy discuss the economic crisis and the future of democracy. As corporations exert more and more influence over an increasingly less democratic state, what does the future of America, India, and other "democracies" begin to look like? Here are some excerpts from the full program: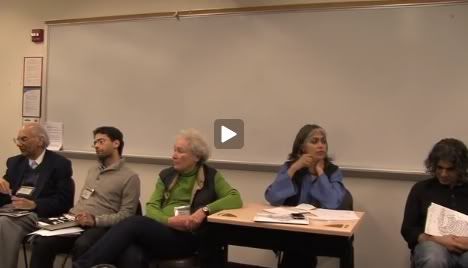 Faiz Ahmed Faiz- Anthems of Resistance
Deep Dish TV's Panel at the 2011 Left Forum (2011) (105 mins)
In March of 2011 at the annual Left Forum in New York City, Deep Dish TV hosted a panel discussion to celebrate the centenary (1911-1984) of one of Pakistan's greatest Urdu poets and revolutionary artists, Faiz Ahmed Faiz. Fluent in Arabic and English, he was a long time Sufi and Marxist, newspaper editor, founder in 1936 of the All-India Progressive Writers' Movement, and at times, a political prisoner. He inspired two generations of young activists from South Asia to Egypt to Lebanon. He was also, awarded the Lenin Peace Prize in 1962 and nominated for the Nobel Prize in Literature shortly before his death in 1984.
David Barsamian Interviews (2011) (288 mins)
While the vast majority of U.S. media foreign affairs sections have focused on covering the Middle East, David Barsamian of Alternative Radio has been covering key issues in South Asia for many years. He has interviewed scores of academic, literary, journalistic and legal authorities on the region. Here, he interviews author Arundhati Roy and independent Kashmiri journalist Parvaiz Bukhari on Pakistan, the Kashmir region, and the Pakistani military. He also talks to Muhammad Junaid, a student living in the Kashmir region, about the history of the dispute over the area, post-colonial struggles of Kashmiri Muslims, and the role poets play in revolutions. Barsamian also interviews Harsh Dobhal, Human Rights Law Network, and editor of the human rights-centric bi-monthly magazine, Combat Law.
Arundhati Roy Part 1:

Arundhati Roy Part 2:

Parvaiz Bukhari Part 1:

Parvaiz Bukhari Part 2:

Here's part one of eight from the Junaid interview (you can find the rest on our blip.tv page):

Harsh Dobhal:

David Barsamian on Kashmir, Pt 1 (you can find the rest on our blip.tv page):

Not only will this collection shed some light on an under-reported region, it's a discount. Purchasers will receive over 10 hours of programming for the cost of about three! Even if you don't plan to purchase the program, please check out some of the videos on this page - you never know what you might learn!
Year: 2011